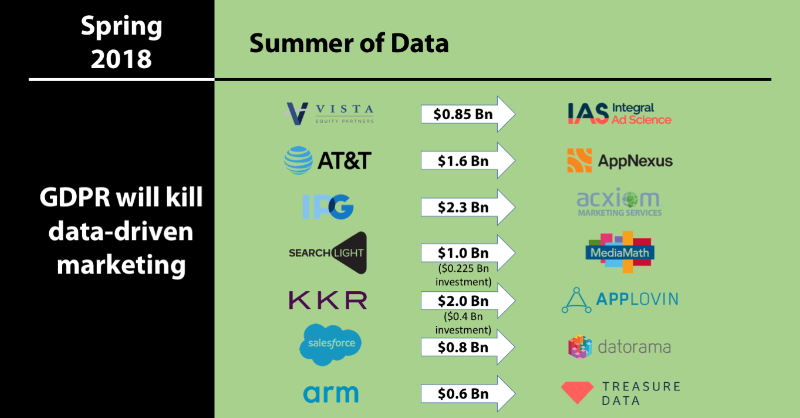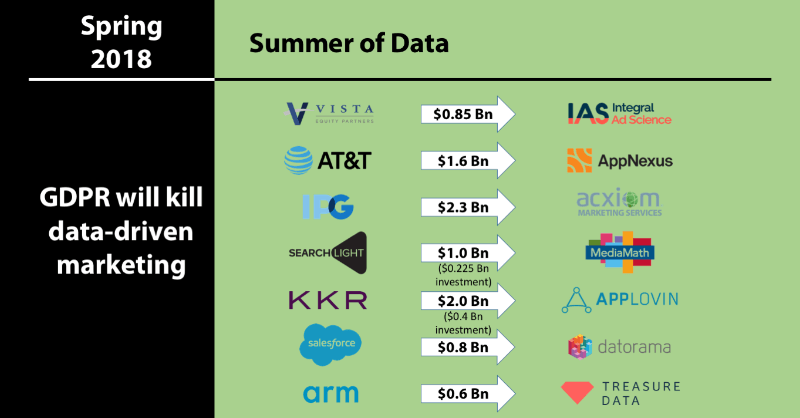 Overview
LUMA presents "The 2018 Summer of Data" featured in AdExchanger's "Data-Driven Thinking" series.
The 2018 Summer of Data
By AdExchanger
There was great uncertainty in the two years leading up to the EU's General Data Protection Regulation (GDPR). During this time, only a few implications were known about the law: the starting date (May 25, 2018) and the fines for noncompliance (4% of global revenue or 20 million euros, whichever is greater).
Against this backdrop, the digital landscape awaited rulings on two megamergers (AT&T/Time Warner and Disney/21st Century Fox). Then the Facebook-Cambridge Analytica scandal thrust the consumer data privacy issue into the mainstream conversation.
As a result of these uncertainties, M&A activity for companies dealing with consumer data and data-driven marketing began slowing considerably in late 2017. While some industry commentators predicted the worst – the "death of data-driven marketing" – buyers weren't willing to take the risk of an acquisition. Instead, they chose to wait until they had a better handle on the implications of GDPR and privacy issues writ large.
We're now a few months beyond the first day of GDPR, and the sky has not fallen. Rather than a continued slowdown in M&A for data-driven companies, there has been a massive uptick. Just in the last three months, we've seen seven significant transactions totaling $9 billion in value for companies focused on data-driven marketing, leading us to dub this the "Summer of Data."'Summer of Data'
It began in early June when Vista Equity Partners acquired a majority stake in ad verification and measurement company Integral Ad Science (IAS) for a rumored $850 million. Vista's investment will allow IAS to remain a neutral player in the ad fraud detection space, competing against recently exited companies Moat and DoubleVerify, as well as still independent White Ops. With fraudulent ad impressions running rampant, IAS will be able to continue to build out its verification capabilities while also looking for potential strategic acquisitions.
Shortly after, AT&T completed its first major acquisition after its merger with Time Warner finally closed. By acquiring AppNexus for a reported $1.6 billion, AT&T will own one of the world's largest scaled independent ad tech marketplaces. Coupled with the assets acquired through Time Warner, AT&T will be able to monetize its own content as well as the broader ecosystem through AppNexus' exchange. Look for AT&T to become a major player in video advertising and continue its M&A activity.
In July, Interpublic Group (IPG) acquired Acxiom Marketing Solutions (AMS) for $2.3 billion. This spin-off of Acxiom's legacy business accounted for roughly 75% of its total revenue. In the competitive landscape of holding companies, this strategically gives IPG an edge with AMS' database of consumer data and data management capabilities, particularly for first-party data.
July also saw investors jump back into the space, as MediaMath achieved unicorn status with $225 million in financing from Searchlight Capital Partners and AppLovin increased its valuation to $2 billion in a $400 million raise from KKR. Both companies are using this fresh capital to buy out existing investors and invest more into their offerings and acquisitions. AppLovin has already announced its acquisition of MAX to enter the in-app header bidding game.
Later in July, Salesforce acquired mar tech company Datorama for a rumored $800 million. Datorama connects consumer data points across platforms and is best known for its dashboard product. Salesforce will integrate Datorama's technology into its Marketing Cloud to offer a unified view of the consumer.
The final deal came in August, with ARM, the SoftBank-owned semiconductor firm, buying Treasure Data for a rumored $600 million. Treasure Data offers an enterprise customer data platform that provides a unified and actionable customer view. This acquisition will help ARM bolster its internet-of-things solutions by integrating Treasure Data's technology.
Fall of Data?
Many feared that GDPR and escalating privacy concerns would lead to a push-back in data-driven marketing and related M&A. The reality, however, is that strategics were simply holding their breath as they waited for more certainty on the impact from GDPR and other major deals in the space.
Now that these concerns have been alleviated, buyers are back in full force, acquiring technology that positions them better for today and for the future.
So as summer ends and we head into fall, the momentum from the "Summer of Data" has already started to carry over, as rumors of massive exits from LiveRamp, Marketo and Nielsen spread across the ecosystem. These deals would more than double the value accumulated during the summer.
With this in mind, I anticipate a busy fall as deal activity ramps up, especially in the subsectors of data, identity, AI, mobile apps and convergent television. Stay tuned.